Elsa and Bertie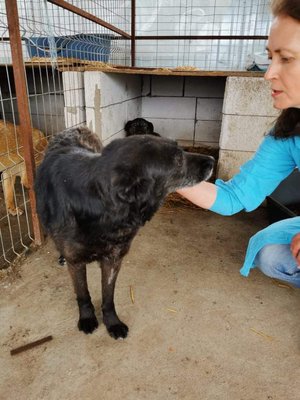 Elsa and Bertie's story
Elsa (black female) and Bertie (brown male) have such a sad story. They were rescued from the streets by an old lady as some local people wanted to poison them. At the time they were only few months old. The old lady couldn't keep them and didn't know how to promote them for adoption, so she placed them in a shelter where they have had a very hard life and lived in terrible conditions - they shared kennels with other dogs and had to fight for food. The old lady visited when she could, but could only get there once every two months. They lived in these conditions for 9 years without knowing love and with only very occasional visits. They are now 10 years old. They grew up together, and cry for each other when they are parted. Andrea had to take Elsa for a vet check as she has lipoma (a harmless fatty lump) and Bertie cried for her until she returned. Despite all this they love cuddles and they still play. They are good with other dogs.
Elsa and Bertie MUST be kept together, and will be donation only. Long-term foster would be considered, as long as they can live out their days together in comfort
Homecheck and adoption fees apply (minimum donation £0). Elsa and Bertie will be vaccinated, neutered, chipped with their own passport and 4 weeks free insurance. If you would like to adopt Elsa and Bertie please complete our pre adoption form or email info@romrescue.org.
Things to know
Dog friendly
I get on well with other dogs.
Interested?