Harry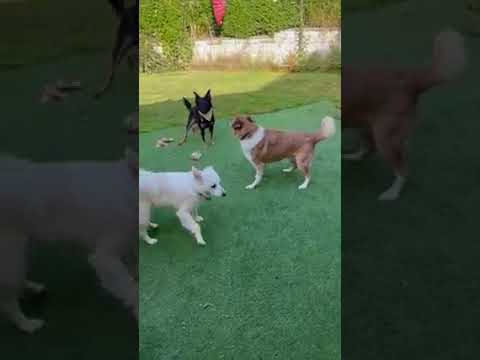 Harry's story
Harry had been in a home in the UK for nearly 2 years but sadly his adopter was no longer able to keep him due to a change in circumstances, so he is looking for a new forever home.
Harry is small- to medium-sized, at 15kg. According to his passport he is almost 12 years old, but we think he is more likely around 8: his age when in Romania was probably over-estimated due to the poor conditions in which he had been living (see final 3 photos before he left Romania). He had belonged to an old lady who had kept him on a two foot long chain outside for his entire life so his legs were not able to develop correctly: they are still a little "wonky" but he is very active and they don't hold him back at all (other than needing to be lifted into the car). He loves zoomies!
Harry has a sensitive stomach so needs to be fed a strict, raw food diet. He would also benefit from a confident owner who can help him continue to overcome his reactivity to other dogs - as you can see from the videos he is improving and learning to play in his foster home, but this work needs to be continued.
Like many Romanian dogs Harry is not keen on having his claws cut, but he loves being brushed and enjoys tummy tickles once he gets to know you (slow introductions work best). Harry is calm in the home and does not chew so can be left for short periods if necessary. He is very loyal and will be devoted to his new adopter.
Harry needs to be an only dog in the home, and has a high prey drive so cannot be rehomed with cats. His previous adopter tells us he does not like children.
Homecheck will apply, but the right home will be more important than the adoption fee, so donation only. Harry is neutered and chipped with his own passport. If you would like to adopt Harry please complete our pre adoption form.
About Harry
Location
Uk Foster Home - Wellington
Interested?