Paddy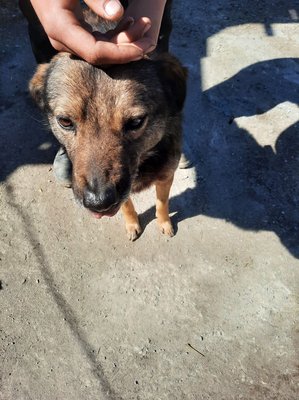 Paddy's story
This medium-sized boy (around 17kg) is Paddy. He is thought to be around 7 years old, and very friendly with people and other dogs. Poor Paddy is one of several dogs who were abandoned in the yard where their owner used to live: they just moved away and left the dogs behind. All the dogs were traumatised by this and the subsequent move to Petrosani public shelter, but Paddy seems to have been worst affected - he is very nervous, but gradually improving since being in his foster home in the UK. When he is ready (we hope around mid-August), he will need a special home - quiet, with no children, and adopters who are prepared to take things slowly and work with him at his own pace: he has never lived in a house before, and never worn a collar or harness. We think he would probably benefit from the company of a friendly female dog to help give him confidence.
Paddy has not been cat--tested.
Homecheck and adoption fees apply (minimum donation £375). Paddy will be vaccinated, neutered, chipped with their own passport and 4 weeks free insurance. If you would like to adopt Paddy please complete our pre adoption form or email info@romrescue.org.
About Paddy
Location
Uk Foster Home - Wellington
Things to know
Dog friendly
I get on well with other dogs.
Interested?